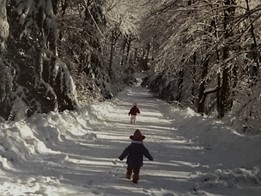 "I'm your Secret Sister and I have your back"
About five years ago Ellen Slaven introduced to the ladies of Joyce Bible Church the Secret Sister Ministry. Currently, there are 26 ladies participating in this program. If you are not included in this number here is your opportunity join. Every March, the new annual term begins when the current secret is let out of the bag and everyone will know who that special person has been for the past year. Just what are we promoting here? Here's a partial list:
What it is: First, it is a one year commitment among the women of JBC with ages from teen-agers through to the oldest ladies (currently age 95)
Goal: Encouragement for all participants
Rewards: Too numerous to list, but to mention a few –
• Accountability to someone
• Getting to know your 'sister' – who she is, what she likes to read, what she likes for snacks, what are her hobbies, who is her family members and many other characteristics of her personality
• Uplifting for yourself as you contemplate a word of support/insight to pass on
• The joy of passing on a small gift, greeting, or inspirational thought, a special Scripture verse which has meant a lot today • The challenge of keeping your identity secret for a year
• All these things are fun and a great way to minister How are these things accomplished?
• Regular prayer for your 'sister' • Get to know her by frequently reviewing the completed questionnaire so as to not miss an attribute or way to communicate without revealing identity
• Remember your 'sister' on her birthday, anniversary or other special occasion
• An occasional card or note of encouragement via USPS
• A occasional surprise gift
This is anonymous but each will reap many blessing along the way. Ladies you are urged to consider being a part of this rich ministry.
Contact Ellen Slaven or the church office at (360) 928-3778 or jbc@joycebiblechurch.org for more information.
I have been a participant in the Secret Sister ministry since its inception and it has been a great blessing. As I have considered what words of encouragement and/or comfort to send and perhaps to include a small token of remembrance from the list of favorite things my 'sister' has provided I am sure I received the greater blessing. The annual commitment has made me accountable and keeps me focused on positive thinking and rewards me with searching the Scriptures more diligently.
I recommend this program to all ladies and urge you to contact Ellen Slaven for more details to get yourself involved. Rose Tieche